Add a pool house, A Clear Choice Pool and Spa Repair contractors explain the benefits 
Chances are you will spend more time around your pool as you do in your swimming pool. Did you consider that when you were working with Menifee, California swimming pool service professionals? If not you should stop, right now, and consider that you might want to add a pool house. Sure you will be in the water, but there will be times when you just want to relax poolside and not necessarily swim or play in the water, right? In our experience, that is the case with most of our pool service clients.
If you do find yourself spending more, or as much, time poolside as you do in the pool, you may want to add a pool house.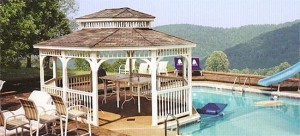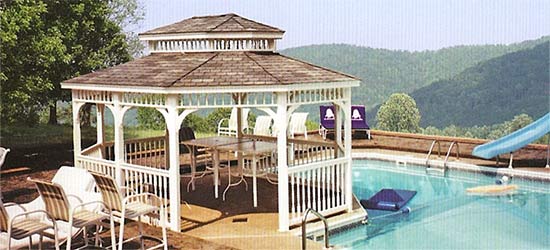 Pool houses have moved beyond functional out buildings that might house pool chemicals or a washing machine, to truly beautiful, livable areas that add to the aesthetics and joy of your swimming pool and backyard landscape.
Add a pool house
Here are reasons to add a pool house:
One with an outdoor kitchen as part of the design will be like adding a guest house to your backyard. You can invite guests to stay with you for a few days at a time and each of you will have your own space.
Your pool house could have a bedroom, bathroom and kitchen and this truly turns it into guest quarters and moves it from a simple pool house/outdoor storage space.
If you don't have much space to devote to a pool house, consider "tiny house" living. Construct a small house, but add "hideaway" amenities to accommodate sleeping quarters, a bathroom, kitchen and even an area for a washer and dryer.
A pool house with a kitchen or barbecue area will help you enjoy more outdoor poolside living and get you out of the house and closer to the pool action.
Design the pool house with an outdoor dining area, perhaps with a roof to allow you to enjoy eating al fresco regardless of the weather.
Equip the pool house with weather resistant furniture.
The pool house could simply be a storage area, but consider adding a "community bathroom" to it. This is an ideal space for guests to change into and out of swim suits and a closer, more convenient option for children to use the facilities without having to run into the house with wet feet and dripping swim suits.
No matter what amenities you decide to put into your pool house, it will definitely be an aesthetically pleasing extension of both your home and the pool itself.
Why add a pool house
Consider how much time you spend in your backyard now that you own a swimming pool. Factor in how much time you spend on vacations — travel, hotels, visiting attractions — and how short lived vacations usually are and you can see that adding a pool house to your backyard amps up the staycation value you and your family will reap.
With pool season winding down, and if you're looking for a change or an upgrade to your poolside living space, ask us about constructing a pool house. We can walk you through the building permit phase, finding a contractor and helping you get the pool house of your dreams.