Swimming pool safety is a 24/7 job. There are many measures you can take to enhance the safety around your swimming pool — some of them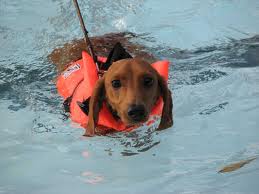 are mandated by state and municipal law and others are steps you can take to enhance the safety requirements that are mandated. When you're working with a Menifee, California swimming pool service contractor spend some time with him to discuss the various options that are available — keep in mind that many of the options you have in place for safety and security for your children are the same ones you need to have in place to keep your dogs safe around the swimming pool.
The swimming pool service providers at A Clear Choice Pool & Spa Service offer these five top safety tips for keeping your pets (and probably your children) safe around the swimming pool:
Here are our five tips to keep your dogs and cats protected around the water:
Erecting a fence around the perimeter of the swimming pool is one of those state or municipal mandates you will be faced with, and for good reason; fences are a perfect first line of defense. Ask your pool contractor about the various types of fences available and the pros and cons for each. Think for example if you have a tiny dog, he or she could wiggle its way through your fence if the holes are too large. You may need to put up an additional barrier.
Ask your pool service pro about the types of pool alarms available. There are several types;  those that float on the surface and those that have infrared rays that sound an alarm once the surface  of the water is broken. You can also purchase pet collars with alarms that will sound if the collar is submerged.
Invest in a doggie life jacket. Pick one up that is suited to its weight and it will be safe around the pool when you're out there with it. Not all dogs can swim, or want to swim, and even if they do, they could become tired and a life jacket will support him until he can get out.
There are pet ramps on the market that you can install in the event your dog or cat falls in and no one is there to see it. The ramp is at eye level so the pet can see it, swim toward it and get itself out of the water. Also, installing a ramp makes it easier for your pet to get in and out if he is an avid swimmer and wants to spend time with you in the water.
Combine safety measures. Even if you have a pool or collar alarm, you still want to equip your pet with a lifejacket for fun times around the swimming pool.
Keeping children and pets safe in and around the swimming pool is a full time responsibility, but adding in safety measures such as fences and alarms helps with the task.