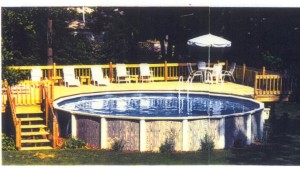 If you have an in ground swimming pool, the "deck" is right there because the pool is even with the ground. If you have an above ground swimming pool though you can still have a deck installed to make spending time in and around the swimming pool more enjoyable. For many pool owners, having an above ground pool means they suffer from having no deck. Also having an above ground swimming pool can sometimes mean that your pool is just sitting in the middle of your backyard rather than being a part of the landscape and scenery. You can work with swimming pool service contractors from A Clear Choice Pool & Spa and have a deck constructed for your above ground pool to enhance the pool experience, make it more easily accessible and add to the ambiance of your backyard.
If you have a deck that wraps around the swimming pool you can easily disguise the pool walls and this will also act as a protective barrier to the pool walls as well as helping it blend into the landscape. As with a deck for an in ground pool, a deck for an above ground style is a practical additional because it allows swimmers to relax and lounge on. There are some above ground pool builders that offer decking systems but for many pool owners there is the option to have one custom built.
When considering a deck you will want to consider the height that it will be and how visible you may be to the neighbors. If you have a low fence between your yards and a high deck, you want to see if you, sitting on your deck, will be the focal point of the neighbor's view. Will your deck serve as a way to get in and out of the pool and perhaps sit on the edge or will you want a deck that is large enough to accommodate an area for entertaining.
Consider having a tiered deck system with exotic wood, built in benches and planters or even a gazebo. Wood is the most popular – and obvious – choice for your pool deck there are some practical reasons it might not be the best choice because the constant splashes of water treated with pool chemicals could take its toll. Make certain the wood used is pressure treated and painted or stained  to protect it. It will need to be treated regularly.  Alternative choices for your pool deck could be plastic or a composite lumber mix. Both of these materials can withstand chemical treated water, can blend in with the landscape and look great for the long term.
If you have an above ground swimming pool and are looking for a renovation project, having a deck constructed just might be the way to go to enhance your time around the pool next season!