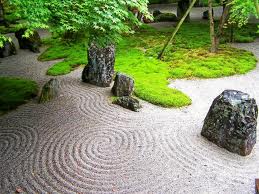 The time you spend in and around your swimming pool is most likely very relaxing and soothing — well, unless you're hosting a swimming pool party, then things are more lively — but if you're looking for a way to truly make your backyard and swimming pool area even more relaxing, ask your Menifee, California swimming pool contractor about the possibility of adding a Japanese Zen Garden to the area.
Zen gardens combine a love of outdoor living with a love of the unique landscape. Your swimming pool has certainly become the focal point of the backyard and with some landscaping and planning, the addition of a Zen garden will offer aesthetic appeal and are virtually zero maintenance. When you're in the market for a swimming pool or landscaping project talk with your swimming pool service contractor from A Clear Choice Pool & Spa and ask him for your options on the Zen garden installation. If he doesn't perform this service himself, he will be able to recommend a landscape artist.
Zen gardens are  centuries old and are said to bring spirituality in every sphere of life. It takes minimal cost and not much time to set up a Zen garden and they have actually been shown both scientifically and medically to offer relaxation and stress relief benefits.  Planting the garden with herbs and plants along the pathway enhance the beauty of the place as well as help in healing and relaxing by the pool. Instead of constructing a twisted walkway to and from the pool, you can have a small bridge and a more rounded pathway as a way to find a place of harmony and peace in your backyard living space.
At the core a Zen garden is a Japanese rock garden. Because white is the color associated with peace and tranquility you will want to carve out a  piece of land that you can fill with white sand, rocks and bonsai and other plants. Marbles and stones collected from the sea have mineral properties that lead to tranquility and relaxation.  It is also said to have healing properties and can help heal joint aches and pains. If your budget permits, a statue of Buddha can be placed near the pool so that there is peace and tranquility by the pool.  Unlike many other gardens the maintenance cost for Zen garden is relatively low once it's been put in place.
What should you plant: A small pine tree is considered a must in a Zen garden. Bonsai (miniature) trees of momo (peach), apple and lemon emanate fragrances that will help your mind to relax and de-stress. Cherry blossom flowers( also known as Sakura), apricot, white egret orchid, Japanese wood poppy in yellow , Himalayan blue poppy and the fragile pink maiden lily are flowers that can adorn your pool area. Bonsai plants need to be trimmed from time to time.