Variable speed pool pumps save money, A Clear Choice Pool contractor explains
Swimming pool owners in Menifee, California and the surrounding areas are always looking for ways to both enjoy their swimming pools to the fullest while saving money on the pool operating costs. The swimming pool contractors from A Clear Choice Pool and Spa Service explain that one way to save money is through the installation of a variable speed pump. Technologies in the swimming pool industry are always evolving and that includes more energy efficient technologies as they relate to swimming pool pumps, filters and other pool related equipment.
Swimming pool owners who have owned their pools for several years may be in need of upgrades and updates to equipment and one of those upgrades could include upgrading from a less energy efficient single speed pump to an energy efficient variable speed pump. The next time we pay a pool service visit, let's spend some time talking about the benefits of a variable speed pump for your pool. Ask us whether there have been advances in equipment that you may want to take advantage of for your swimming pool or hot tub. You need to not only take into consideration, the up front cost of a new variable speed pump, but the long term return on your investment (ROI) which can be sizable.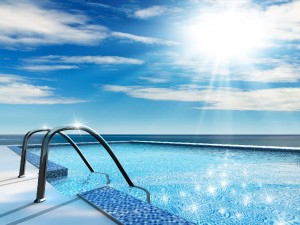 Variable speed pool pumps save money
There are myriad regulations imposed upon swimming pool owners by the state of California as it relates to enhancing pool efficiency through energy saving measures. A variable speed pool pump certainly fits the bill for a piece energy efficient pool equipment that the state would look upon favorably. How can you be certain you're within the guidelines imposed by the state as it relates to energy efficient pool equipment? You can ask us at the next service visit we pay or you can give us a call at our Menifee, California offices. We can schedule a visit and perform an inspection to help you determine whether your equipment is in need of an upgrade. A visit by our service professionals certainly doesn't mean you need to make the upgrade that instant, but it will give you an idea of the cost of the variable speed pump as well as installation. We can also give you an estimate of what you will save, overall, in pool operating costs if you make the upgrade to variable speed.
How do variable speed pool pumps save money
By way of comparison the history of single speed swimming pool pumps is that they worked extremely well for pool owners who needed to simply circulate the water and the chemicals throughout the pool. If you're operating swimming pool cleaners aka vacuums or electrical driven accessories that include fountains and waterfalls, the pump will likely always be running and that is not efficient. Single speed pumps run at a single speed, regardless of the task they are performing. For example, if you're simply circulating chemicals throughout the pool, the pump doesn't need to operate at a high level. If, however, you're vacuuming the pool or running a fountain or other accessory, the pump will need to operate at a higher rate. The variable speed pump allows for the option of run speed based on the task at hand — this leads to efficiency, energy- and money-saving benefits.
Using a single speed pump will waste power and could cost you up to 90% more than if you were running a variable speed pump.
A single speed pump could prove to be the most costly piece of equipment to operate in your home. Upgrading to a variable speed pump has the potential to save you more than $300 a year in pool operating costs and that is substantial, we think you'll agree!