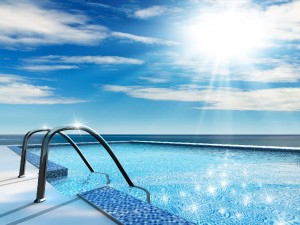 Swimming pool ownership brings with it myriad decisions and choices ranging from the size and style to the accessories and equipment you will choose for your swimming pool. Because there are so many decisions it is always best to work with a qualified Menifee, California swimming pool service contractor who can help you sort out the good ideas from the bad and can share the pros and cons of each. Some decisions are a matter of personal preference, naturally, but when it comes to swimming pool filters, you should consider it the "heartbeat" of your pool because it's what keeps the water and chemicals circulating and helps keep your water clean and healthy.
There are three types of filters that are used in swimming pools across the country and your swimming pool service contractors at A Clear Choice Pools in Menifee, CA recommend them in this order: DE (Diatomaceous Earth), cartridge and sand filters. While all three of types perform well, it is a likely a matter of preference as to which filter you ultimately choose for your swimming pool.
Sand filtration systems have been used for literally hundreds of years as a water filtration system. The water passes through the sand particles, the water gets cleaned and the clean water is passed back into the pool. These type of filters require maintenance because the sand can cause a drop in water pressure and also over time the sand gets smoothed down over time and it loses its effectiveness to clean. Backwashing is necessary with sand filtration to keep it operating effectively and this can be a task you may not want to undertake on a seasonal basis, however a skilled swimming pool service tech can do it for you.
If you're looking for a lower maintenance option, a pool filter cartridge might be a better option. Through the use of a paper filtration system, the water is moved through the cylinders, the impurities are removed and pure, clean water is filtered back into the pool. A cartridge system catches even finer dirt particles than a sand filter will.
DE filters are not an inexpensive proposition but it is a more natural way to clean your water. These filters remove the finest particles of dirt than any filter on the market today. A DE filter can remove dirt particles as small as 4-10 microns – these are so small they are invisible to the naked eye. This type of filtering methods does require a routine backwash in addition to a bi-annual manual cleaning so it is filtering type that requires the most intensive maintenance but because it removes the most particles, it is considered the best filter.
Pool owners who utilize the services of a swimming pool service professional don't have to worry about the maintenance and upkeep of either their pools or their filters, they are simply able to enjoy the fun and enjoyment of their pool knowing the water will be clean and sanitized and always swimmable.