Stressful day at work? Need to get some exercise in but you're simply not up to jogging when the sun is so hot in the sky? Owning a swimming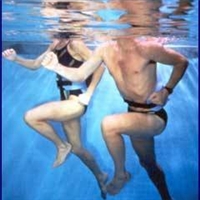 pool means you always have access to a great place for stress relief and a place to get, and stay, in shape.  Once you're on a routine schedule of maintenance with your Menifee, California swimming pool service contractor, your pool will always be clean, bacteria free and swimmable whenever you are ready to take the plunge and there is no better way to relax than taking a swim after a long day at the office.
Swimming laps, slicing through the water from one end to the other is beneficial because your mind has the chance to wander and release its daily stresses. Concentrating only on the swim strokes is almost meditative and research shows that slow, meditative swimming restores  brain cells. And believe it not, a swim routine can help rid your body of physical exhaustion and help you sleep better because it works off tensions.
Swimming also promotes a sense of well-being because your body releases endorphins when you swim; endorphins are the chemicals that help you feel content. Swimming can have the same effect that yoga does on helping stretch and relax your muscles and your mind.
Exercising is another obvious benefit of swimming and it also provides a workout without putting undue stress on muscles and joints. Water makes your body buoyant and this means it's even a good exercise for those suffering from arthritis or other muscle or joint pain. Swimming is also a great cardiovascular exercise and helps strengthen your heart and lungs. Ask the swimming pool service providers at A Clear Choice Pool & Spa  for information or advice on exercise equipment you can use in your pool to amp up any workout routine you may be following.